I think that I may have mentioned before that I'm slightly craft ADD and usually have 10 ideas in my head at one time, none of which I actually have the time to work on since I'm probably crafting the ten ideas from 3 months previous. Back in 2011 I came to Middle Georgia (sounds like a place in a sci-fi novel doesn't it?) for work. The first month or so my husband and I stayed in a room at Value Place (it's an hotel/studio apartment type thing). To keep from going crazy I started crocheting around my old concert tees that I had saved from the 80s.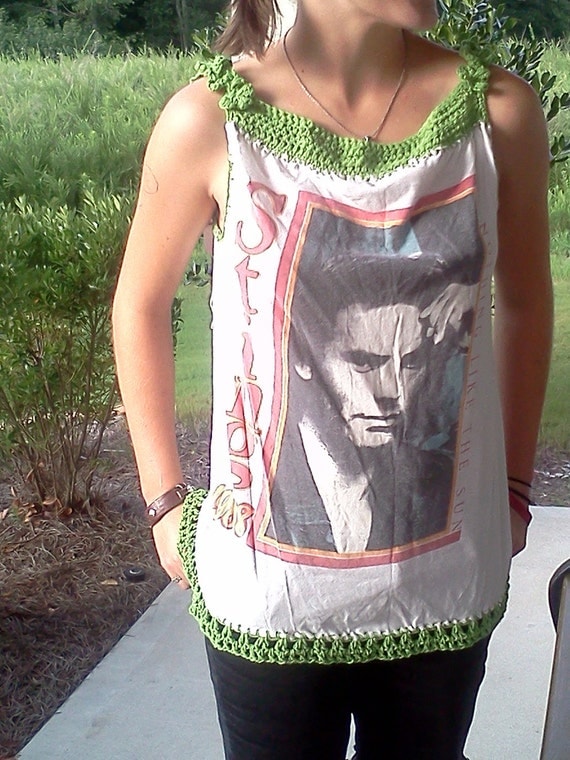 Once the holiday season is past, my Etsy sales are nonexistent, which is great for me because it means that I have time to experiment with designs (some not so good btw), learn new things etc. My latest "thing" is getting back to t-shirt  recycling  I am obviously a t-shirt hoarder and they (like my odd bits of yarn) must go somewhere other than a landfill.
Today I made this cute pillow cover for my youngest who was in Marching Band  back in high school. It looks as though there is no crochet involved BUT – I did crochet a very long chain which i ran through the hem of the shirt to tie the bottom of the pillow – which makes the cover washable and reusable, I hope he'll have it for years to come.
So there I was writing this awesome post and one half of it has disappeared. Arrrgh.
Anyway I was about to tell you about my new idea for naturalistas who dry their hair with or wrap their wet hair in a t-shirt (leaves your hair so much softer and less frizzy that a towel). It's still just an idea/experiment. Here's a sneak peak:
Visit my Etsy site for more of my
repurposed tee ideas
, unfortunately I don't yet have the time that it would take to create AND create tutorials, but I hope to share some of my ideas in the future.